Languages of Loss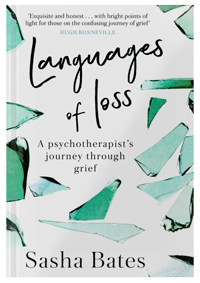 Languages of Loss is a 'conversation' between Sasha's grieving self and her therapist self. It reflects her search to find ways to express the inexpressible and make sense of the nonsensical. She explores various grief theories and looks at what different psychotherapeutic approaches have to offer in this quest for ways to manage the seemingly unbearable pain of loss. Along the way she shares her own pain, despair, confusion and rage, trying to see these feelings through a psychotherapeutic lens.
What people are saying about Languages of Loss:
This is the most startlingly honest book about grief I have ever read. Its immediacy hits you on the first page ,and takes you on an unforgettable journey. No one has set out so clearly the stages we go through as we try to come to terms with facing the enormity of death.
Dame Penelope Wilton, OBE
This is a deep and generous book. Sasha Bates offers the reader a compassionate walk alongside her as she weaves her own personal story of loss with her professional understanding. It will be a great support to all who have suffered loss.
Elizabeth Wilde McCormick, psychotherapist and author
Sasha's generosity in writing this vivid, searing account of the loss of her beloved Bill left me deeply moved, moved by the glory of loving and being loved. Her description of moving through the chaos of grief, fully exposing the unknowable inner world of the griever alongside philosophical, spiritual and therapeutic musings were highly illuminating and provocative. But what I was really left with was an awe, an awe of humanity's fundamental and beautiful capacity for loving connection, with one another and with one's self. I will keep this book close to me, always.
Ed Simons, Psychotherapist and Chemical Brother
Sasha writes exquisitely and honestly, the sheer rawness of what she has gone through and is still going through, sitting in balance with the calm and clear-sighted objectivity of the therapist, who is also her. That I so vividly recognise the Bill I knew is testimony to her skill at characterisation – but whether one knew the man or not, one recognises love when one reads it and one recognises the chaotic agony of a love lost. Exploring the threads of her bereavement with such candour and wit and lightness of touch is a remarkable achievement. Bursting through the bitter darkness of her personal experience shine truths that will serve as bright points of light for those who have shared, or are perhaps just embarking upon, the confusing journey of grief.
Hugh Bonneville
This is a book fluent not just in the languages of loss but of compassion, humour, empathy, understanding, revelation and humanity. Even in the depths of her own grief Sasha Bates makes sense of the chaos that envelops all of us and offers not a reductive path to some kind of quasi-redemption but the profound glimpse of a way through.
Tim Marlow, broadcaster and Director of The Design Museum
An absolute page-turner. As good as a box set. She brilliantly weaves her own riveting, tragic and funny narrative – how can you be all three at once, but she manages – with really interesting stuff about how psychotherapy and psychology works. Lots of things I didn't know or hadn't properly understood – and I thought I was up to speed on such things.
Rachel Kelly, author
This book is about so much more than loss. Sasha's way with words allows the reader to access and connect with the depth of love shared by her and Bill. In doing this, she offers inspiration and hope for us all, highlighting along the way that grief is not 'the price we pay for love' but is indeed love itself. I loved this book with every bit of my own broken, open heart.
Donna Lancaster – Co Founder of The Bridge Retreat
Why buy the book?
Grief is an inevitability for everyone, bereavement the one thing no one can avoid. And yet we still don't talk about it enough. Despite conversation about our state of mind becoming more and more prevalent, grief is often viewed as an untouchable mountaintop that one must overcome alone. This book normalises what can feel abnormal. It breaks down taboos about death and tries to find humour and light amidst the depressing, confusing reality. It is an essential companion to help support readers through the agony of those early months, giving permission for all the feelings, and offering various methods of dealing with them, including chapters on your changing sense of self, what effect it may or may not have on any existing or emerging spirituality or world view, and how best to make use of the endless offers of help from friends and community. It will help you understand the myriad grief theories, coming to recognise when to lean on, and when to discard them; it explores some therapeutic approaches which may help explain your various ways of reacting, and will support you in trying to find that balance of keeping your loved ones' memories and presence alive and with you, while simultaneously exploring new ways of being without them. The book is divided into seven sections reflecting Sasha's own stages – which she prefers to call shapes as they are not linear – implosion, scattering, flailing, floating, balancing, sailing, swimming.
The overriding message is that everyone's experience of grief is different but knowing more about the theory, learning your own new languages of loss, may not ease the grief but will help you feel less alone, and at some point enable you to reflect back and see how far you have come.
And if none of that convinces you, maybe this will – the foreword is written by wonderful actor and human being, Tamsin Greig, one of Bill's oldest and closest friends. Tamsin is also narrating the audio book which will be available from April 2nd. 
What people are saying about Languages of Loss:
Reading this book, I'm in the hands of someone I would want to be my side for the traumas of life – however small they seem, or big they loom.
Kirsty Wark, journalist and broadcaster
Thank you for writing one of the best books (of many) I have read on grief and for translating how I feel. You have knocked A Grief Observed off its pedestal.
Lizzie Pickering, Film Maker and Grief Investigator
Your book is so so amazing for my practice, it really has been super helpful for me in supporting my grieving clients.
Anthe Ickx, psychotherapist
A powerful blend of the personal and the professional.
Mishal Husain, journalist and broadcaster